HE was born in Sunderland but was made a man at Plough Lane. MICK SMITH in this interview with Wombles Downunder tells of his days with the Crazy Gang under Dave Bassett. There were no masks for broken noses and no time off for injuries — 'Rock Nut' once played with a fractured eye socket.
(i) You signed from Lincoln City for £12,500 in December 1979 and made your Dons debut the following month. How did your move from the Imps come about, did it take you long to decide to join, who did you speak to in negotiations?
Mick: I joined Lincoln City as an 18-year-old with Mick Harford. As a young pro I found it hard to come to terms with the hard fitness work but played 25 games virtually in my first season but as a young centre-half I lacked strength being thin and growing quickly. I was asked to play in a reserve game for Wimbledon at Cambridge so they could take a look at me and they liked what they saw and signed me for that small fee and I started my journey at the Dons as I just wanted to play 1st team football.
(ii) You've spoken of your baptism of fire when you began training at Plough Lane. Can you give a sense of how tough it was back then, how you were received as a 'Geordie' at the London club?
Mick: It's funny as the team were virtually all Londoners so no-one could understand my accent but they accepted me as a player but I had to wait for my debut as a clash of heads in training put seven stitches in my forehead (the best part of me ). It was tough in those days: No where to live, no friends, no car so I lived in "lodgings" with team-mate Paul Denny.
(iii) Who were the characters on the training pitch back in those days? Any particular memories of your time trying to tie down your place in the first team?
Mick: The main characters were a great player Steve Parsons,  Johnny Leslie and my  'competition'  Tommy Cunningham and Paul Bowgett. Ray Lewington was a great captain under manager Dario Gradi  but unfortunately we were relegated in my first season at Plough Lane.
(iv) How did you find playing under Dave 'Harry' Bassett? What were his strengths as a manager/coach, what were the things that impressed you about his training/tactical methods?
Mick: Dario Gradi left for Crystal Palace and Dave Bassett took over as manager with a pattern of play he had seen and developed that was right up my street. Every player knew what his role was and mine was to win the ball, get it forward into the channels and push up HEAD IT/TACKLE.  I was quite quick as a player and at the back we played 2v2 with fullbacks never behind us and always looking to get forward. Dave's  strengths were plain-speaking. More or less "This is what I expect and do it this way or move on." It worked for me as I was never blessed with ball skills. In fact my second touch would always be a tackle!!
(v) You were described by Dave Bassett and Wally Downes in their book The Crazy Gang, as "simply enjoyed being a typical son-of-the-soil centre-half who went in, got the ball and cleared it." You had a reputation as a powerful header of the ball, you used to get great distance with your headers. Was that your strength as a defender, your aerial ability and why you were nick-named Rock Nut?
Mick: As a kid I was a town basketball player in Sunderland and my leaping ability was always big and my timing honed over endless sessions of heading out of the area and that was my main strength and it linked well to our pattern. Their  keeper kicked it downfield as he had to as we didn't allow him to throw out as we played four up front. I would smash a header back 40 yards and we were back on the hunt. Tough nut hence rock nut headers … I loved a challenge.
(vi) Life wasn't always smooth for you at Wimbledon. You clashed heads with Wally Downes on your first day at training and needed seven stitches and you were also plagued with injuries – hernia operation, a pelvic bone graft among them. How frustrating was all that for you at that time?
Mick: After the Fourth Division championship in 1981 I played in every game and it was tough and playing with injuries was part and parcel of my game as we only had a squad of 16 players. For example,  there were no masks for broken noses and no time off for injuries. I once played with a fractured eye socket. Lots of knee/ankle twists. Just filled up with cortisone and got on with it.
(vii) You played a prominent part in the rise of Wimbledon through the divisions and you were pictured chairing Dave Bassett in that iconic photo after clinching promotion to the old Division One at Huddersfield on May 3 1986. What are your memories of that day of celebration?
Mick: I was on the bench that day at Huddersfield but that for me was just another game. We had progressed through the division at a time when there was very little football on TV and teams didn't really take much notice of us until they came to Plough Lane then they knew – and didn't want to come back.
Takes pride of place in the Smith household. Photo credit: Rob Cornell.
(viii) Injuries caught up with you the following season and Wimbledon's first in the top tier and you played only the first six league games – your last at Newcastle in September 1986 – as home-grown youngsters Andy Thorn, Mark Morris and Brian Gayle became first-team regulars. What were your memories of that time and how hard was it for you to call it quits in 1988 – the year the Dons won the FA Cup final – after a  Dons career spanning 205 league appearances?
Mick: So here we were in Division One and I spent most of that summer making sure I was ready and ultra-fit and getting stronger. I didn't play in the first defeat at Manchester City but then played in the next five when we went to Newcastle as the top position team in the country. It was a proud day for me because it was back in the where I grew up. That was when after a bad tackle on me overstretched my groin area. We lost 1-0 courtesy of Paul Gascoigne and within a week I discovered my hernias were torn and I was still trying to get back 12 weeks later. I missed a lot of that great season where the Dons finished sixth. Later on — as there were virtually no MRI scanners around in those days  — I discovered my pelvis at the point of my pubic bone  had also slightly torn which led to a bone graft which ruined my career with Wimbledon at age 28. We had great players to replace me and Harry always kept me involved asking me to show them (Brian Gayle and especially Andy Thorn) everything I knew. I was proud of my time at the Dons and loved the everyday banter and "CRAZY" things we got up to, but called it a day just before that monumental day at Wembley (I was there).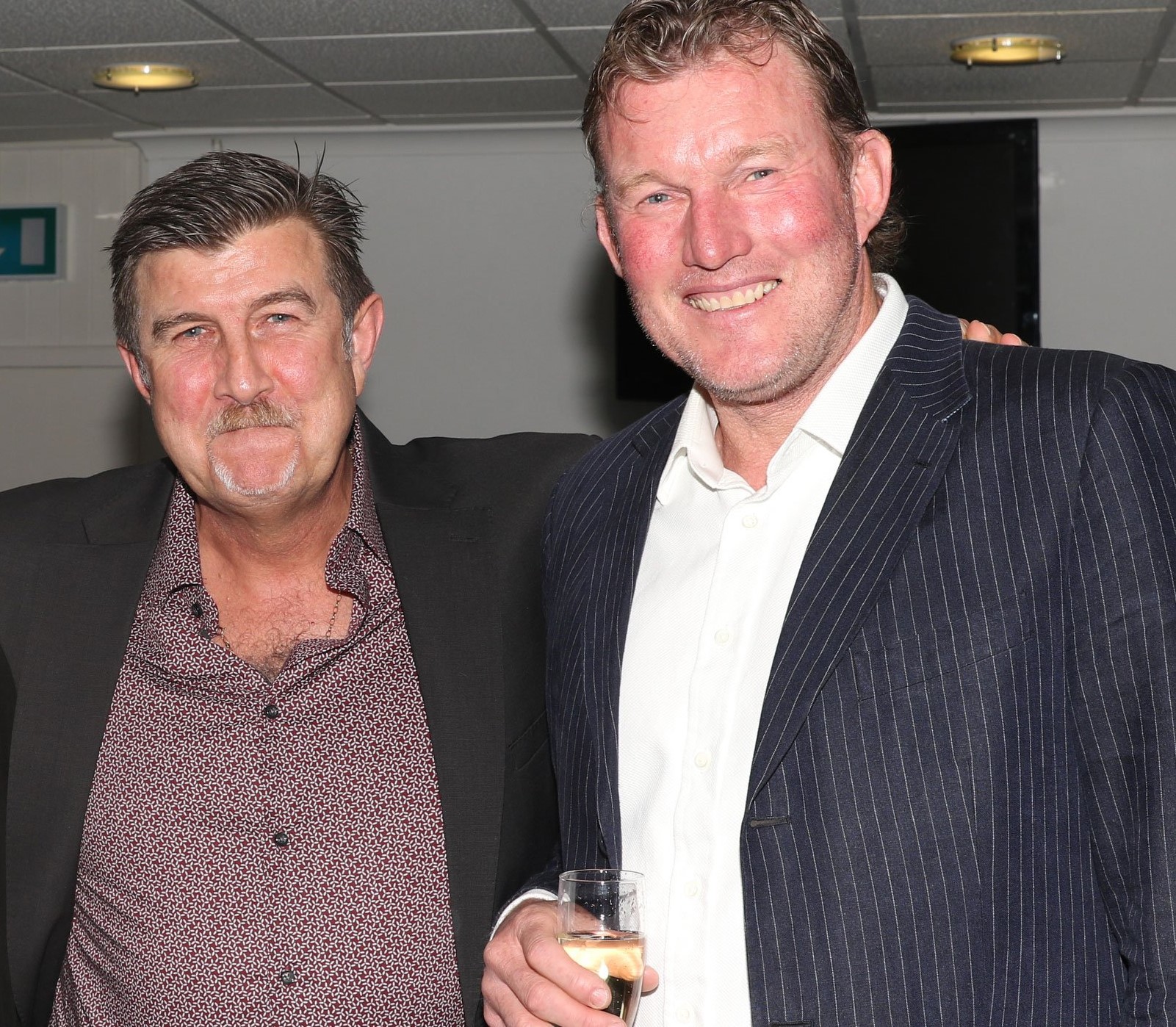 (ix) What's your favourite goal for Wimbledon, the best win you were part of and the toughest player you marked during your Dons career?
Mick: My favourite goal was against against Portsmouth who with us were vying for promotion to Division One and it was John Fashanu's first game. There were some other hard men on the pitch that day: Noel Blake/Mick Tait/Kevin Dillon. It was a typical header into corner after Stewart Evans had hit the bar. We drew 1-1 away – it was an important goal.
(x) You made a comeback and helped Hartlepool United beat relegation before you were part of the Hartlepool team that won promotion to the Third Division for the first time for over 20 years. That must have given you great satisfaction playing back in your native north east?
Mick: My wife  Sue's mother was dying of cancer so returned to North East where I was working for Nissan in a factory and I was still trying to get fit when a call out of the blue came from a guy at Bath City and after a whirlwind year with them and living away without Sue I got player of the season for them and returned to play Northern League football for Seaham Red Star. Hartlepool managers Bob Moncur and Bryan 'Pop' Robson heard about me and I signed for Hartlepool United and I was back playing again at 30 although I had to tailor my training due to bad knees and was susceptible  to groin pulls, Cyril Knowles took over and as a very hard player in the 1960s/70s he loved my style and made me captain and we achieved yet another promotion season.
(xi) What do you do with yourself these days living in Sunderland and do you catch up with any of your old Dons teammates?
Mick: I left Hartlepool as I had a job lined up as a police officer (natural progression for a 1980s centre half…) and spent five miserable years doing that when Mick Tait asked me to come back to Hartlepool as youth team coach/manager. I enjoyed three good years doing that before leaving as the new manager was a dick. I have spent the last 20 years at Hammonds, a fitted furniture company, where I do their training  in cad design [computer-aided design] and sales and I love it (always coaching!!). My playing days were memorable and some of us still catch up about three to four times a season and chew the fat and recall funny/sad/excellent memories together. Sometimes in Sheffield /London/Sunderland. I spent my 60th birthday in a box at Sunderland watching MY team, the Dons.
(xii) So how do you feel watching AFC Wimbledon in League One and playing under your old teammates Wally Downes and Glyn Hodges? You planning on being back at Plough Lane when the Dons return to Wimbledon, hopefully in 2020?
Mick: Although Wally is absolutely crazy he is surprisingly an intelligent guy and comes with an excellent pedigree, much like Glyn. Both have worked with some great managers. I see and speak to them regularly along with Paul 'Fish' Fishenden/Kevin Gage/ Mark Morris/John Gannon/Steve Hatter, salt of the earth guys all blessed to have played for the Dons. I was born in Sunderland but was made a man at  Plough Lane. They are forever in my mind and I will be the first there for the reopening of the New Plough Lane ground. COYD.
[The Mick Smith interview was first published in the September-October 2019 issue of the Wombles Downunder fanzine.  Details on how you can subscribe to Wombles Downunder.]