IT took 10,776 days – 29.5 years — for Wimbledon to play again in Wimbledon. It was an odyssey, it was fraught with obstacles to overcome along the way but the fans-owned club triumphed in the end. PETER LENG tracks the long and winding road to Plough Lane. 
The return to Plough Lane, after nearly 30 years in exile, is the story of a community that wouldn't take no for an answer, that wouldn't allow itself to be beaten into submission or even non-existence, that wouldn't give up hope.  It is the story of ordinary fans standing up for their belief in having a local football club to support, fighting the fickle power of money and a remote football establishment, plotting a newfuture away from wearingly uncertain and long years as nomads to owning our own football club in a permanent home back in Wimbledon. Getting back to Plough Lane is perhaps the defining chapter in the story that proves that AFC Wimbledon, set up in defiance of the football authorities, was and continues to be very much the antithesis to the FA's damning "not in the wider interests of football" slur.  In 2011 the winning back of our league place was the righting of a historic wrong; in 2020 returning to our spiritual home in Plough Lane is, as one newspaper put it, the end of an odyssey. It is the club returning to its rightful place in and with its local community.
The story starts at the final whistle in Plough Lane on May 4 1991, when Wimbledon FC was playing Crystal Palace in the ground it had called home since 1912. At the time few among the home support in the 10,060 crowd could really have believed that it would be the final home game in Plough Lane. The Dons were a club which had and would continue to punch above its weight for many years; that penultimate season of the old First Division finished with the Dons in seventh place, a lofty slot which defied the ramshackle ground which had been home to the club's astonishing rise from its pre-1977 non-league days.
The pressure to move was all the greater because of the 1990 Taylor Report which had demanded all-seater stadiums by 1994 in light of the 1989 Hillsborough disaster. Club owner Sam Hammam determined that the small  Plough Lane ground could not be transformed in to the required all-seater stadium that would be fit for purpose in the new, impending Premiership era. And so it was goodbye – without having properly said goodbye – as Wimbledon's beloved stadium was sold to property developers and we were banished to ground share with Crystal Palace in their corner of southeast London.
The 1990s were the years of exile in Selhurst Park. What was supposed to be a "temporary" ground share was to end up lasting for more than a decade. There was much talk of plans to build a new stadium back in Merton, of a site in Beddington, but they never materialised whether because of politics or money. So Selhurst Park it was.
But the seeds of the fightback were germinating. A refusal to accept being a diaspora was setting in. In 1997 the Wimbledon Independent Supporters Association launched its campaign "It's Time We Had a Home Game".  The Dons Trust was set up by fans in February 2002 to fight moves to relocate the club, with fans deciding themselves to be front and centre in the running and future of a Wimbledon football team. But it all seemed to have been to no avail when our world came crashing down on May 28 2002, with the heart-breaking decision by the Football Association's three-man commission to allow the club's owners to move Wimbledon FC 60 miles away to Buckinghamshire. Many of us fans have not been so devastated, before or since. These were the end days it seemed, the point of no return. But again, we Wimbledon fans refused to bow, led by a number of determined diehards who had the energy and optimism to regroup. The MK move was the red line, the move that kick-started the reinvigoration of the Wimbledon FC fan base into the revamped AFC Wimbledon.
Forward wind nine years, five promotions later, and we were back in the Football League. Our home for this extraordinary time of growth and success was Kingsmeadow, home to Kingstonian FC – similar to Plough Lane in its non-league size and features. But it still did not feel like home. Although we bought the leasehold for the ground and eventually gifted Kingstonian £1million to ensure we were not seen as asset-grabbing big-footers, it always felt like it was not the forever home. That, we knew was back in our historical home of Plough Lane.
Once our league status was won back in 2011, and the first goal of our fightback against that betrayal of 2002 was achieved, attention turned to addressing the finding of a way back to our real home. One of the founding fathers of AFC Wimbledon, Ivor Heller, summed up the determination which had never gone away:  "From the very start we talked about it.  There was just an irresistible pull – there is something in the Wimbledon DNA".  The club launched its bid to return to Plough Lane in 2012, but it took over two years before we could submit a planning application.  Heller again: "The big turning point was when councillor Stephen Alambritis became leader of Merton Council.  He was the guy that plotted the route for us more than anybody else."
Where the 1990s were the miserable years of exile, the 2000s were the exciting years of rebirth and growth, the years 2013-20 were the nail-biting years of plotting and planning our Plough Lane return.
In 2013, AFC Wimbledon announced that talks were underway with Merton Council over a joint bid for the Greyhound stadium and surrounding land in the SW17 end of Plough Lane, some 200 metres away from our old ground on the other side of the river Wandle. This bid was submitted in cooperation with Galliard Homes to build a new football stadium, 600 residential units and a wide range of shops and community facilities. The site had been designated for "sporting intensification" by Merton Council, so our hopes were high.  The dog track was a run-down site, an eye-sore which did little to benefit the local community. The club had signalled its way forward, and fans were soon on board.  A "Bring the Dons Home" campaign was launched at the  beginning of December 2013. The club was working hard behind the scenes to push its plan to bring football back to Plough Lane; we fans were encouraged to do our bit in a "Write Now" campaign – putting pen to paper again to Merton Council and others to argue our case for a community-based football stadium in Merton. So began years of intense lobbying to help realise our long-term dream.
Fans of greyhound racing launched their own counter "We Want Wimbledon" campaign, arguing hard with local residents, politicians and councils that the greyhound stadium should remain. A competing plan was put forward by businessman Paschal Taggart who wanted to build a 4,500 capacity stadium on the site to be a world-class dog track.  The war of words was fought out in the press and leaflets circulated in homes around Plough Lane. The Dons campaign was passionate but measured, setting out the benefits of a new stadium which would serve the local community as well as fans of football.
Then on 10 December 2015, after a two years of frayed nerves and hard campaigning, Merton Council's planning committee made the decision which at last gave the green light to our stadium plans. Our proposal for a new football stadium, with a housing development on land adjacent to the ground, received the thumbs up. We were good to go. We had sold Kingsmeadow stadium to Chelsea in 2015, and with the proceeds from that and the funds from the housing development, we now had the planning permission to build our dream.
And then the obstacles appeared. The anxiety had returned as supporters of the dog track refused at the end of 2015 to accept the Merton planning decision. They had sympathetic ears and heard supportive noises from local residents groups and from neighbouring Wandsworth Council which worried about the impact of a new football stadium and housing development on local services and transport.  After Merton Council's approval for the plans in December 2015, the planning spokeswoman at Wandsworth Council, Councillor Sarah McDermott, called on the Mayor of London to "intervene and scrutinise this application much more comprehensively".
We entered 2016 with the rumblings of Wandsworth Council's and greyhound fans' discontent were heard in City Hall, and the first signs of trouble for us came in February 2016 when the then Mayor of London, Boris Johnson, expressed concerns about our stadium plans, highlighting, in particular, issues with affordable housing, flood risks and transport. Another dark day of sinking hearts arrived for us Dons fans on 23 March 2016, when the Mayor called in the Plough Lane stadium application for further consultations. What did Johnson mean when saying he was "calling in" the application?  In effect the Mayor would act as the local planning authority and begin the consultation process again before a final decision would be made.
We were seemingly back to square one in the planning process.  And with a mayoral election on May 5 it was unlikely the process would begin until July, at which point it would be taken over by a new Mayor. It seemed Johnson was stalling. Merton Council was perplexed, its council leader Stephen Alambritis calling Johnson's decision "very, very disappointing…very poor on his part to hand the decision to a new mayor".  Nobody knew why Johnson did this, given the unanimous decision by Merton's planning committee, the response to the consultations and his own Greater London Assembly officers asking him to approve it. But Wimbledon and its fans never gave up hope. Chief executive, Erik Samuelson, led the way, saying he was very disappointed by the Mayor's decision but not surprised: "We will represent our case strongly and clearly, and I still think it's an overwhelmingly positive case". And that positivity and continued lobbying by Dons officials and fans paid dividends when on 23 August 2016, the new Mayor, Sadiq Khan, handed the decision back to Merton Council.  It was another day of huge relief and joy for us Dons fans.
Khan's U-turn angered Wandsworth council, which claimed the new stadium would put huge pressure on the area's transport network with increased traffic congestion and more passengers accessing local rail services.
Wandsworth's concerns clearly hit a nerve, because our planning permission for the new football stadium now entered another period of prolonged debate – largely conducted by club and council officials behind the scenes. This was the age of the S106. An S106, in a nutshell, involves extra planning obligations. Section 106 is part of the 1990 Town and Country Planning Act, a mechanism or agreement between the local authority and the developer, which makes a development proposal acceptable in planning terms that would not otherwise be acceptable.
And bingo, on 13 December 2017 our own S106 was formally signed and planning permission was finally cleared by Merton Council.  It was, said Alambritis, "a historic moment". Under the S106, AFCW and the developers (GRA Acquisitions Ltd) committed to not only bringing major new development and the associated economic benefits to south west London. They would also pump in £1.5m into local health provision and improvements to the local bus, road and cycle network. Samuelson waxed lyrical: "A group of fans started with nothing: no ground, no team, no manager, no players and no kit.  Now fifteen years later, we've taken a giant step towards going home to Merton, in a new stadium and as a Football League club.  This is a momentous day for us".
"Great!" we all thought, the S106 now provides authorisation for the stadium construction and we were good to go – but again, no! Our planning education had another lesson for us fans to learn: yet another potential legal obstacle had to be cleared. Having overcome all the Council planning application hurdles, we now faced a six-week period during which an application for a judicial review could be launched. But to our huge relief again, the delay did not happen. The final legal barrier failed to materialise and the way was clear for demolition of the greyhound track to begin. On 16 March 2018, clearance began of the Plough Lane site in preparation for the new football stadium and housing development. The bulldozers moved in, and I wandered down there frequently to see the old dog track disappear and the rubble taken away to leave a  large clear site for our new home and the blocks of apartments around it. The year ended with the land's freehold transferred to an AFC Wimbledon subsidiary on 24 December 2018.
The summer of 2019 had been billed as the target time for the new stadium to open and for football to resume on the site for the first time since 1991. But delays in our planning process had pushed this back, probably to 2020. Of course, this story would not be the one it is if it did not have yet another worrying twist.  The storm clouds at the end of 2019 were in the form of finance. It came as something of a bolt out of the blue when Dons fans were told at a Dons Trust meeting in November 2019 that there was a £11million shortfall on the building budget due mainly to delays in the planning process and lengthy talks over commercial agreements. Unless this shortfall could be met, the builders, Buckingham, would have to stop work in the following January (2020).  The news came at the worst possible time with Brexit looming and the uncertainty of a general election, and with banks nervous of lending to football clubs given the parlous nature of many lower league football clubs.
But as ever, it is in these times of adversity and obstacles that Dons fans rose to the challenge of finding ways forward.  Spiralling building costs had already seen fans dip in to raise £2.4million in a Seedrs crowdfunding initiative. The mood music from some in the Dons Trust seemed to be that fans had already contributed as much as they could to the Seedrs initiative, so it was now time to consider outside investment in the club to try to plug the £11m gap; there were three local businessmen, we were told, who would put in £2.5m each and so help get us close to the target we needed.
Just as we were on the verge of getting home, we were once again embroiled in an existential debate about what AFC Wimbledon is. We have always been a fan-owned club, but was now the time to open the door to external investors who may not be fans and have the club's footballing interests at heart?  It resurrected a debate which perhaps was bubbling under the surface, but which heated up to the point that a small group of fans with suitable financial expertise – determined to save the fan-owned model of the club – suggested the issuing of a bond to secure the necessary funding to complete the construction of the stadium. And so the Plough Lane Bond was issued, investment in the club in the form of loans of a minimum of £1000 on five, ten and 20 year terms, at rates of interest up to 4% to be chosen by the investor. It was another creative and constructive effort by fans themselves to do their bit to ensure that Wimbledon could once again play football in Plough Lane – and to remain a fan-owned club.
The bond raised an astonishing £5.4m and did ensure that the builders could continue their work and keep our dream alive at that crucial juncture. On May 28 this year, local businessman Nick Robertson did invest another £2.5m – a crucial cash injection which allowed the club to sign all construction contracts and go to the banks to secure a vital short term bridging loan for the last £4m of the shortfall.
Throughout late 2019 and 2020 building itself continued. Over the summer, living not far from the stadium, I walked by almost weekly to check on the development – seeing the stands rise up and the speckled yellow and blue seats being installed, then the floodlights go up….it was a summer of unremitting happiness for me as I watched our new home take shape.
Our new home can hold 9,300 fans, but allows us to grow and find our natural level with the option and possibility of it being expanded to accommodate 20,000. It will have state-of-the-art facilities, including the largest conference centre in Merton, to provide commercial opportunities for the growth. There will be an on-site pub which will open seven days a week. It will hark back to our original home with the name of the pub likely to be The Batsford Arms, the name of choice among most fans. A museum too will marry the old and the new, with paraphernalia and memorabilia on display from our old ground just down the road.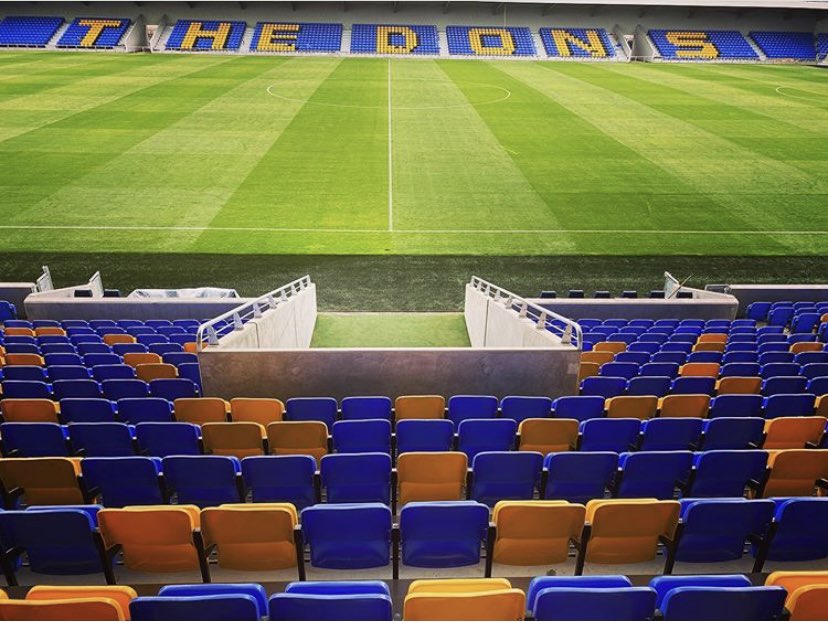 In August came the long-awaited moment to choose our individual seats in our new stadium. Launching a new ticketing and debenture scheme was an ambitious project, after years of watching games from behind the goal in the John Green stand at Kingsmeadow, a viewpoint from the halfway line appealed. With my son and daughter and close friend we got four seats in the second row right above the players tunnel, half way up and smack on the halfway line. I've seen the seats and the view from them in those amazing pictures on social media, and am happy beyond words to know that we will have them as debenture holders for the next ten (or eleven) years.
And so we come to the final chapter of this incredible story, a chapter with the magical date of 3 November 2020.  This was to be the day of our first game back in Plough Lane, football played back in Wimbledon for the first time in 10,776 days – a 29.5 year wait. Wimbledon playing again in Wimbledon.
But it was a bittersweet day. Happiness that our football team was home at last was tinged with a visceral sadness, disappointment that we fans could not be there in person to share this amazing moment. Curse you Covid. As the local Wimbledon Guardian  summed it up: "A story involving protest, injustice, homelessness, despair, revival, promotion, financial worries and persistence finally ends amid a global pandemic".
Until we can be physically in there cheering on our team, we are not properly home. We still wait to enter the promised land too.
As Vinnie Jones, memorably once said: "it's been emotional". After nearly three decades in the wilderness, we are back home and masters of our destiny. The future is ours to shape as we will.  We can all now sing together our post-1991 battle-cry and anthem: "The Wombles had a dream, To watch our football team, Playing back at Plough Lane, Where we belong, The journey was long, The FA were wrong, We're AFC Wimbledon — We brought the Dons home". 
[The Long and Winding Road Back to Plough Lane was first published in the November-December 2020 issue of the Wombles Downunder fanzine.  Details on how you can subscribe to Wombles Downunder.]
[Ed: This is an abridged version of the original article.]